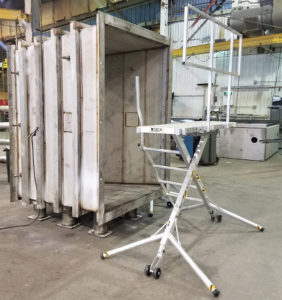 At Danser, our commitment to returning employees home safely means taking a proactive approach to preventing potential hazards. Recently, we completed an evaluation of fall risks from nominal heights in the workplace and found an improved solution for reducing the hazard. With new aluminum platforms, our craftsmen have increased stability and security when projects require working above ground.
Fall protection systems require special safety considerations, even for nominal heights. Complacency significantly increases the risk of working above ground. Thinking "it's only a few feet" creates a false sense of security. Depending on the environment, severe injury can result from a fall from only a few inches. According to the Center for Disease Control and Prevention and Bureau of Labor Statistics, over 60% of all elevated falls are from a height of less than ten feet. In 2011, falls from less than ten feet accounted for nearly 25% of fatal falls that were work related.
OSHA standard 1910.140 states that any work completed above four foot in general industry requires an approved fall protection system. Unfortunately, fall protection is not always effective at reduced height, especially traditional lanyards and systems that "stretch" due to shock absorbing properties.
During our fall protection system evaluation at Danser, we identified several limitations with traditional solutions. When fabricating large structures, fabricators are limited by the small work surface of ladders, which are especially challenging when there are multiple people working on the project. Similarly, scaffolding is cumbersome in small spaces and has limited mobility. We also found that personal fall protection systems are an obstacle in environments where clearance is an issue.
Our solution came in a tool developed for the aviation industry: mobile aluminum platforms from Safetec XDeck. In addition to providing a larger working surface, the platforms feature full-length handrails for additional stability and work trays for easy access to tools or supplies. The platforms hold up to 1200lbs, and we can adjust the height to adapt to various jobs. In addition to the improved stability, our fabricators appreciate the lightweight design for easy transportation and storage.
With flexibility for a variety of projects and heights, the aluminum platforms allow Danser to work safer without losing productivity. They are an investment in the continuous improvement of our safety program and in the health and success of our employees, customers and vendors. We believe there's no better investment.