The Exhaust Stack Solution
Industrial exhaust stacks for high-temperature systems in many industries. Our exhaust stacks are fabricated installation ready, or let us install it for you!
Contact Us!
Call: (304) 679-3666
Email: sales@danserinc.com
The Right Metal
Carbon steel exhaust stacks
Aluminized steel exhaust stacks
Stainless steel exhaust stacks
We fabricate exhaust stacks from carbon, aluminized and stainless steels. Gauge is determined by application specifications. Due to Danser's custom capabilities and technology, we can fabricate stacks in any size required. We also fabricate spiral exhaust stacks. 
The Right Insulation
High-temperature vacuum-formed ceramic fiber insulation available in 2300° and 2600° fiber
Chemically stable and noncorrosive
Lighter weight than alternatives
Danser's patented high-temperature vacuum-formed ceramic fiber insulation called Vacuduct© has low heat storage and excellent thermal shock resistance. It is an ideal insulation choice for high-temperature applications such as exhaust stacks and other components such as furnaces and afterburners.
The Right Choice
Over 80 years of experience
Broad capabilities for fabrication, installation and service
Outstanding safety record
With 80+ years of experience, Danser has unique understanding of the best metal and insulation for your exhaust stack application, resulting in long-term solutions that withstand the conditions. We also offer installation for a complete exhaust stack solution.
Applications
Burn-off oven exhaust stack
Furnace exhaust stack
Kiln exhaust stack
Dryer exhaust stack
Pollution control system exhaust stack
Coffee roaster exhaust stack
More
Installing 115′ exhaust stack and duct in Canton, OH, fabricated by Danser.
Exhaust stack with access ladder and platform – the completed installation. 
12ga aluminized 65″ OD refractory-lined exhaust stack for furnace exhaust system.
Painted carbon steel exhaust stack with platform for pollution control system. 8′-10″ OD 3/8″ carbon steel base with 6′-8″ OD 1/4″ carbon steel top section.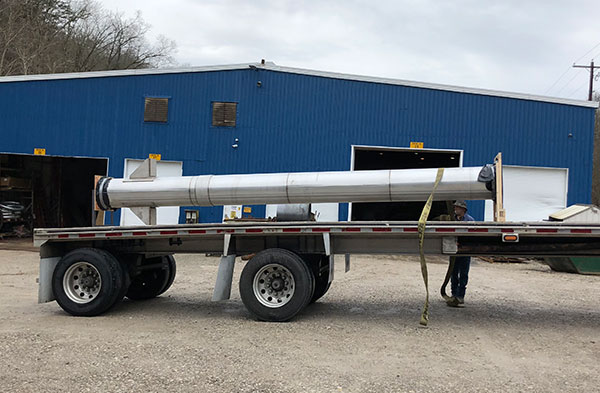 Stainless steel exhaust stack for coffee roaster.
Aluminized steel spiral exhaust stacks. 16″ OD and 36″ OD with rain caps.
Exhaust

 Stacks Can Come With:
Rain caps

Access ladders

Platforms

Expansion joints

Ductwork

More
It's Fabricated, Now What?
Danser fabricates exhaust stacks installation-ready, or save the hassle and let us install it for you. The best crew to install it is the one who built it. We also provide maintenance to keep your stack in tip top shape for years to come.
Our Secret Sauce: Vacuduct
Here's why Danser should build your exhaust stack: we make the metal AND the insulation. Our flexibility to do both has efficiency and cost-saving benefits.
Vacuduct:
Steel exhaust stack and insulation from one source
Stable in high temperatures
First-quality, high-purity virgin bulk fiber for consistent material properties
Custom sizes to fit any size exhaust stack
Vacuum-forming process allows us to "wetline" exhaust stacks, making Vacuduct the most seamless and efficient insulation choice
When lining Danser-fabricated metal, it has a bolt-together design for easy installation
Also typically used for: combustors, afterburners, exhaust duct, dampers, and more
This is How We Roll
Efficiently
With razor sharp parallelism control for optimal precision
In up to 120″ lengths for flanged or welded connections
In elliptical and other complex shapes
Our Swebend hydraulic 4-roll Plate Bending / Plate Rolls give us ultimate control and speed without sacrificing quality. Ideal for repetitive pieces and production runs, our exhaust stacks can be rolled in less production time than those using traditional plate rolls.
Proud to Be American Made
Danser crews are working across the country every day, driven by the traditional American values of honesty, hard work and our genuine passion for manufacturing and world-class craftsmanship.
Fabrication
Let us make it for you. Chances are we have worked with similar applications in the past and can provide expertise that comes only from decades of experience and understanding of material and process. We don't just fabricate exhaust stacks, we fabricate systems. Learn more about our capabilities.
Installation
We take pride in our service from start to finish. We fabricate and install systems, and we install equipment and systems manufactured by others. Whether an exhaust system, a pollution control system or ductwork, our crews are trained and ready for installations, simple to complex.
Maintenance
Have a stack that needs maintenance? Give us a call. Danser crews are ready to provide maintenance and emergency and scheduled repairs with short notice. We help you save time and money by extending the life of your exhaust stack.